Sock weather is here!
With fall in full swing and winter around the corner, there's lots of talk about sweater weather. It's chilly and breezy and definitely time to bundle up in cozy, chunky knits. But, what you really need right now is much more important than sweaters.
This season calls for socks (and tights and leggings, too). But, mostly, socks.
See ya, sandals!
By now, your flipflops and wedges have been stored away only to reemerge again in spring (fingers crossed) when the days of bare feet and pedicures are back. Sniff, sniff. We know it's not easy to say goodbye sunny days and sandals, but they'll be back again!
Plus, let's get real, socks are essential for all your fall footwear and they're actually pretty darn cool, too.
Toe-tally necessary
The main reason this season is all about socks: it's cold! And, wet. And, slushy. Wearing socks not only keeps your feet warm and comfy, but the rest of your body, too. Fabrics like cotton and wool provide extra warmth and a cozy feel for everyday wear and lounging, while thinner fabrics and synthetics are ideal for dress wear.
Don't forget about athletic socks, either. Wicking, odor-fighting performance fabrics are a must-have when you're hitting the gym. They'll help keep your feet fresh and dry when you're taking your cardio up a notch.
Happy Feet
Not only are socks going to keep your piggies nice and toasty, but there's this whole new sock trend going on. Gone are the days of plain white crew socks (boring!), now there's color, texture, pattern and print.
Everything from stripes to polka dots to argyle to checks… the list goes on and on. Cable knit, marled yarn and seamless fabrics and finishes add interest and style, too.
Socks are no longer something you hide under your pants—they deserve to peek out for all to see. Believe it or not, they're even becoming an outerwear piece. Hear of sock boots? Just google it (you won't regret it).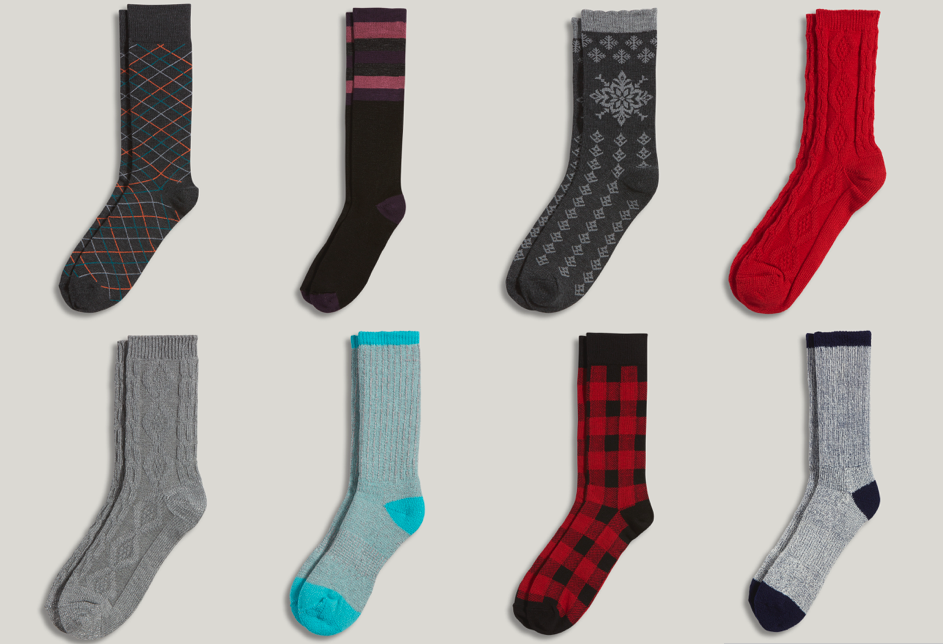 A pair for your plans
Last but not least, there's a sock for every shoe (and every occasion). Choose from everyday crew, no-show (perfect for flats and booties), ankle (great for workouts) and trouser (boots love 'em) to fit your plans and your preference.
The best part? Select socks are mix and match 5 for $25, so you can stock up and save on your favorite styles. After all, the last thing you want to have is cold feet.