Have you heard the statistic that roughly 80% of women are wearing the wrong size bra? Mostly anyone who's ever worn a bra has suffered from sore shoulders, an ill-fitting bra, or slipping straps. And don't get us started on traditional bra fitting — getting poked and prodded by a total stranger is beyond uncomfortable! We saw how broken this system was. We believe that it shouldn't be this torturous to find a bra that feels like it was made just for you.
After scanning 800 real women's bodies and gathering years of research, we developed a new sizing system to find your truest bra size with the help of volumetric cups. In other words, we measure based on breast shape and volume, rather than assigning an A to D value! And the best part? You can fit yourself in the comfort of your own home. AND it comes with our Try It. Wear It. Love It!™ Guarantee, so if you're not totally in love with your bra, we'll exchange it so it's a perfect fit or give you a full refund—even if you've worn or washed it.
After all, we are more unique than A to D!
Here's how to get your RealFit® bra:
Step 1: Get the RealFit® Kit!
Since our sizing system is not on an A to D scale, you'll need to have access to a RealFit® Kit to determine your specifications. You have a few options! You can either order one online, or head into any Jockey retail store if you need extra help or a second opinion. The rest of the directions below will walk you through fitting yourself at home!
Step 2: Measure your breast shape and volume!
The Fit Kit comes will come with a set of ten volumetric cups. Start by selecting the cup that looks like it will fit you best.
Next, lean forward and place the bottom of the cup under your breast (the cup will have arrows indicating where the top is, so no confusion necessary). Take a look in the mirror and ensure that everything fits in the cup. If you're spilling over the edges of the cup, go up in size! If there are gaps, go down in size. Measure both breasts — if one is larger, go with the larger cup.
Step 3: Measure your band size!
One of the trickiest parts of modern-day bras is that the bands we use today are not what they seem. Some brands add or subtract inches from your band size, so a 34 band could be as big as a 38, or as small as a 30. This is why a 34C at one store is a 30C at another!
So, we included a measuring tape in the Fit Kit to measure your accurate band size. Wrap the tape around you, under your breasts (where your bra band would go), and measure to the nearest inch. The number in the color block is your band measurement!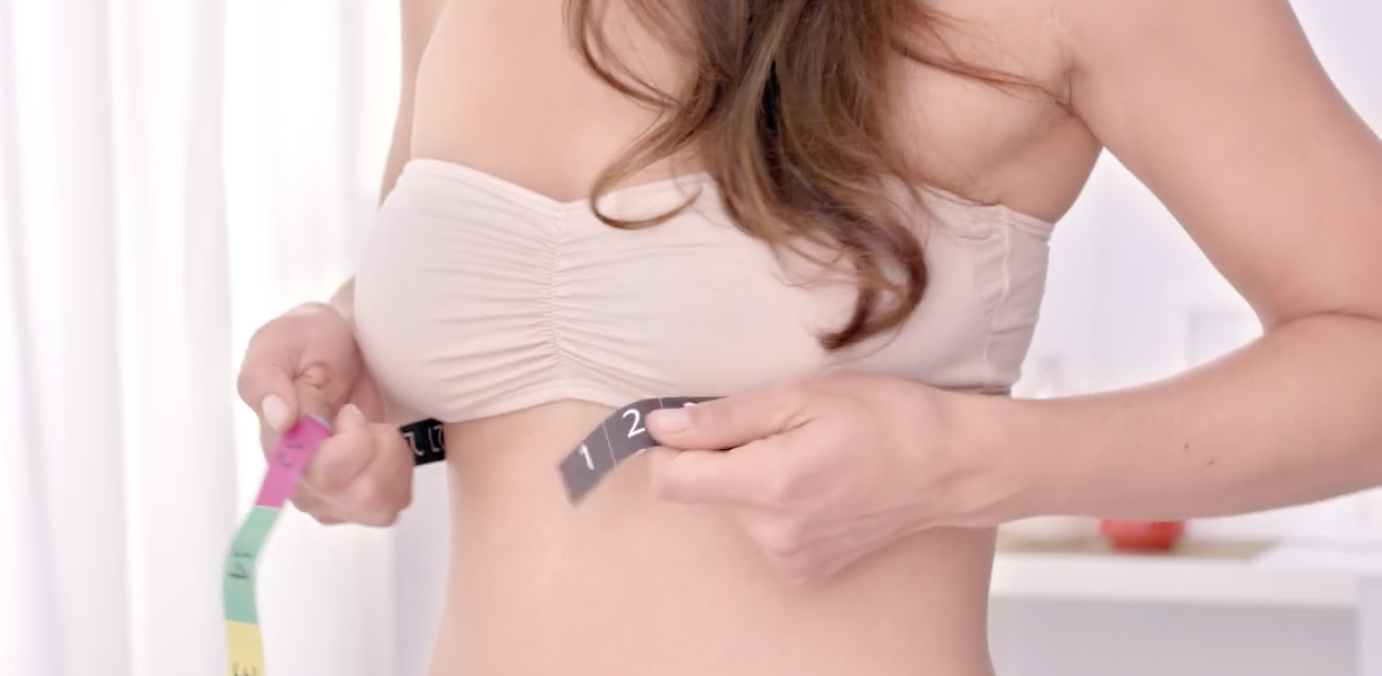 Step 4: Choose your RealFit® bra!
Head over to our selection of bras online, or to any Jockey retail store, and pick the style that suits you best! At this time we offer four different styles of bras:
Full Coverage RealFit® Bra
* best for average to full sizes *
Defy gravity with this perfect little pick-me-up. Our patented comfort wire gives you great support and shaping while the super pretty, ultra-feminine design and lightly lined cups provide a beautifully smooth start for an extra boost of confidence underneath.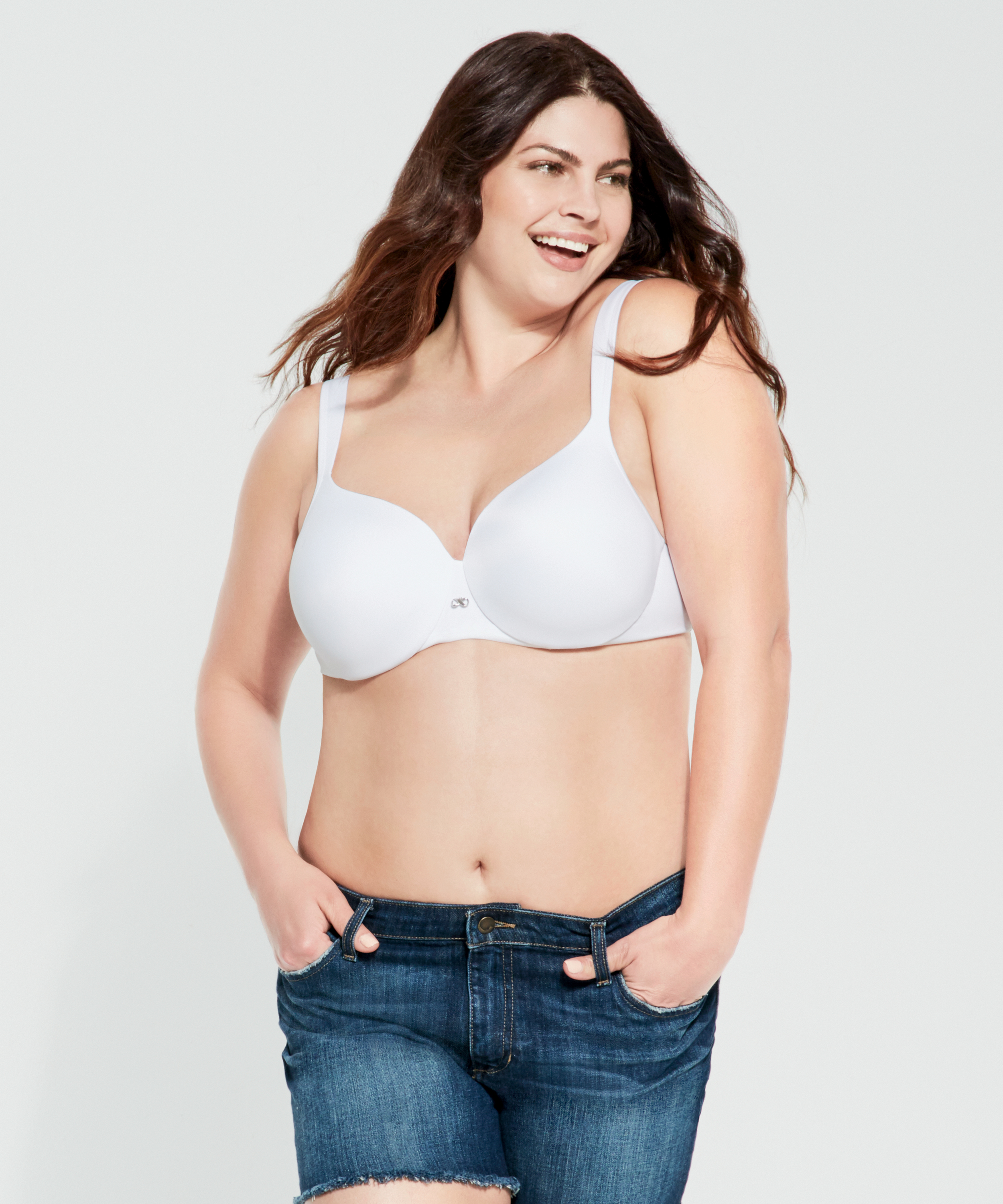 Click here to learn more or get this bra!
T-shirt RealFit® Bra
* best for all sizes *
This bra is ah-mazing. Our patented comfort wire gives you great support and extra lift (yay for that!), plus our stay-put straps don't budge! Add to that its chic, oh-sooo-smooth design and you've got a fabulous fit under tees (or any other curve-hugging style!)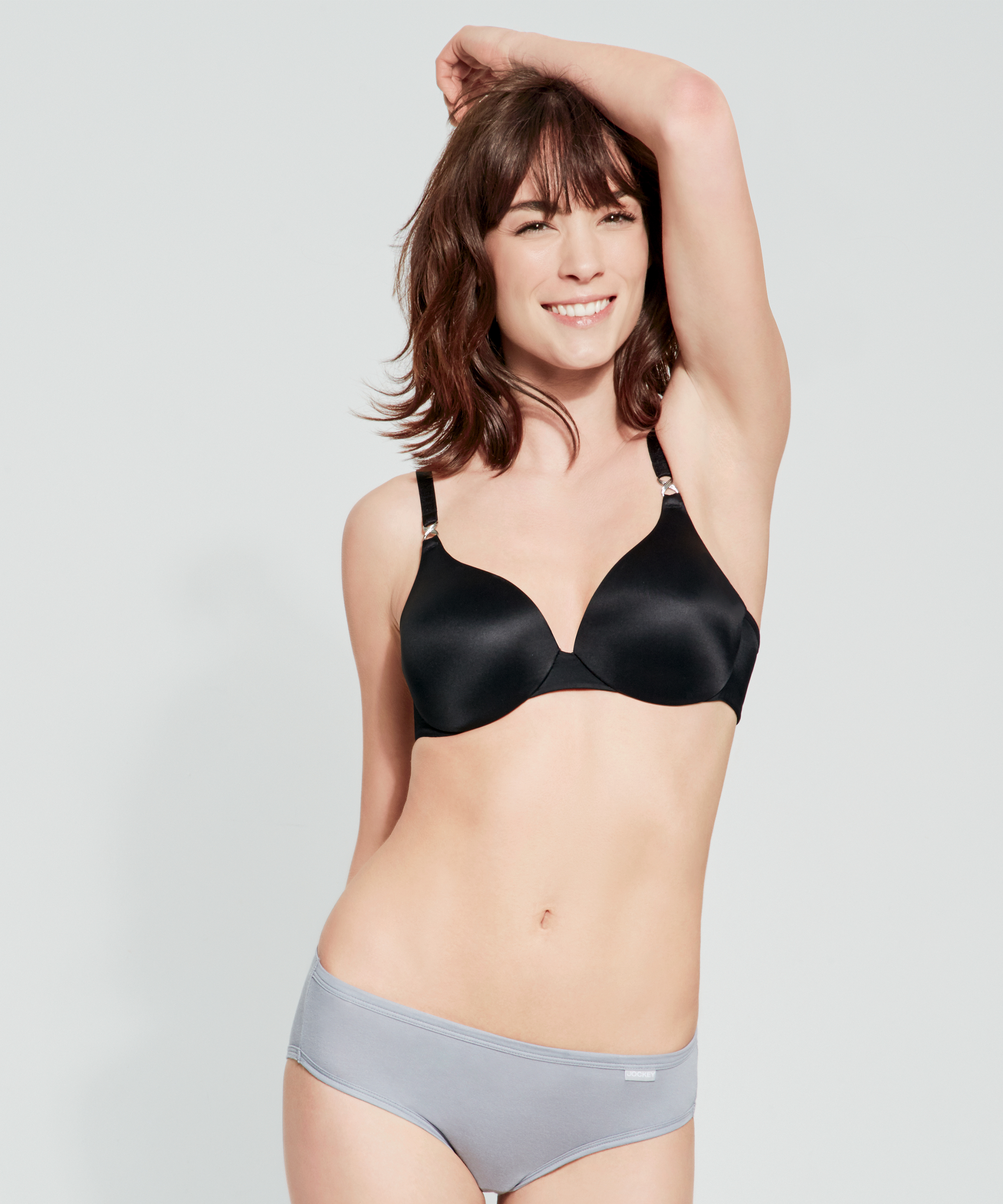 Click here to learn more or get this bra!
Unlined RealFit® Bra
* best for all sizes *
All the lift, none of the fluff. Unlined cups give you that natural look and bulk-free comfort you want. And the patented comfort wire lifts and supports so your breasts are front and center, right where they belong! It's majorly comfortable (and subtly sexy!) without all the fuss.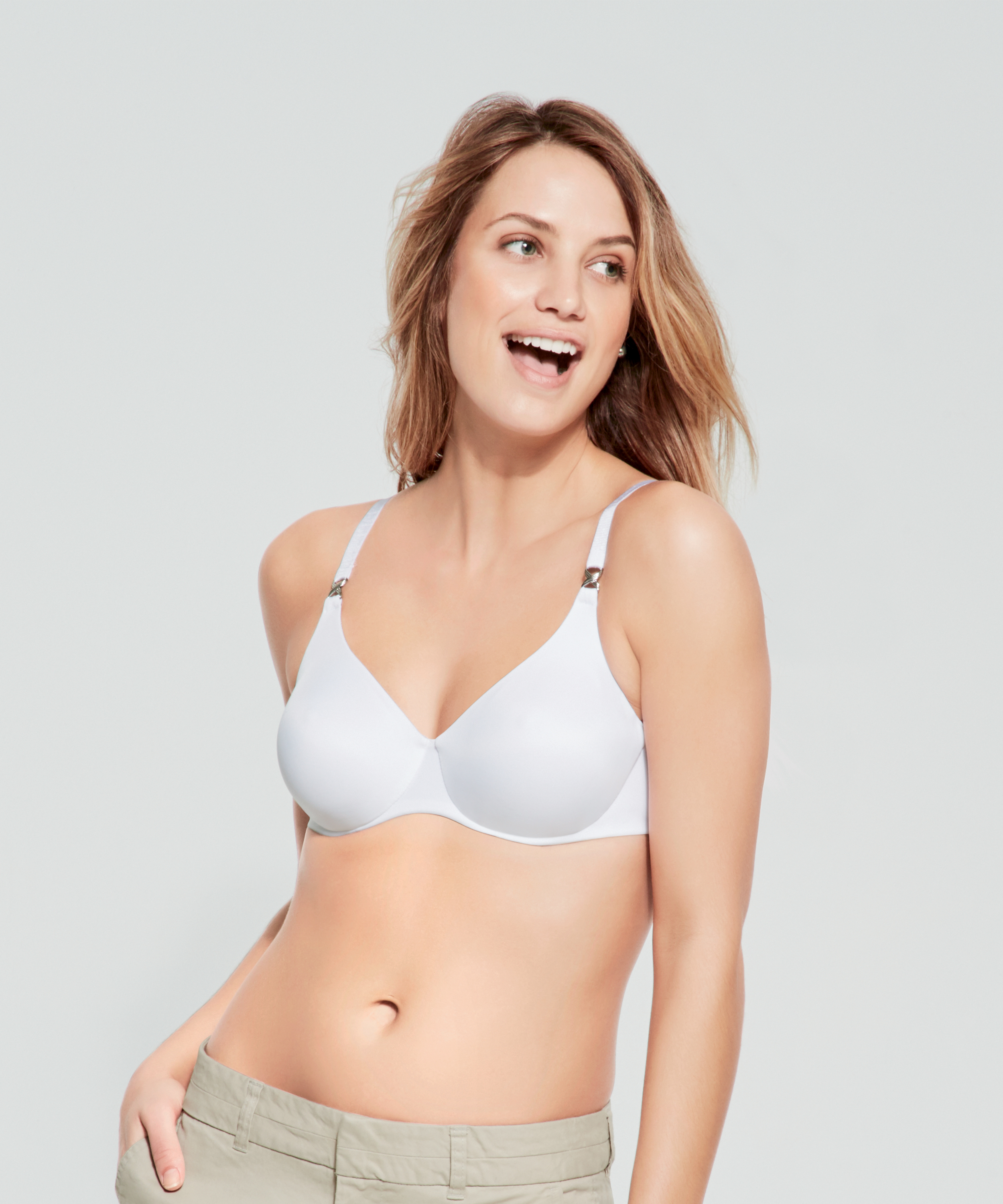 Click here to learn more or get this bra!
Wire-free Unlined RealFit® Bra
* best for average to small sizes *
If comfort's key, this is your new, go-to bra. The wire-free design provides casual comfort with just the right amount of lift and support while the unlined cups show off your natural shape (no extra bulk here!).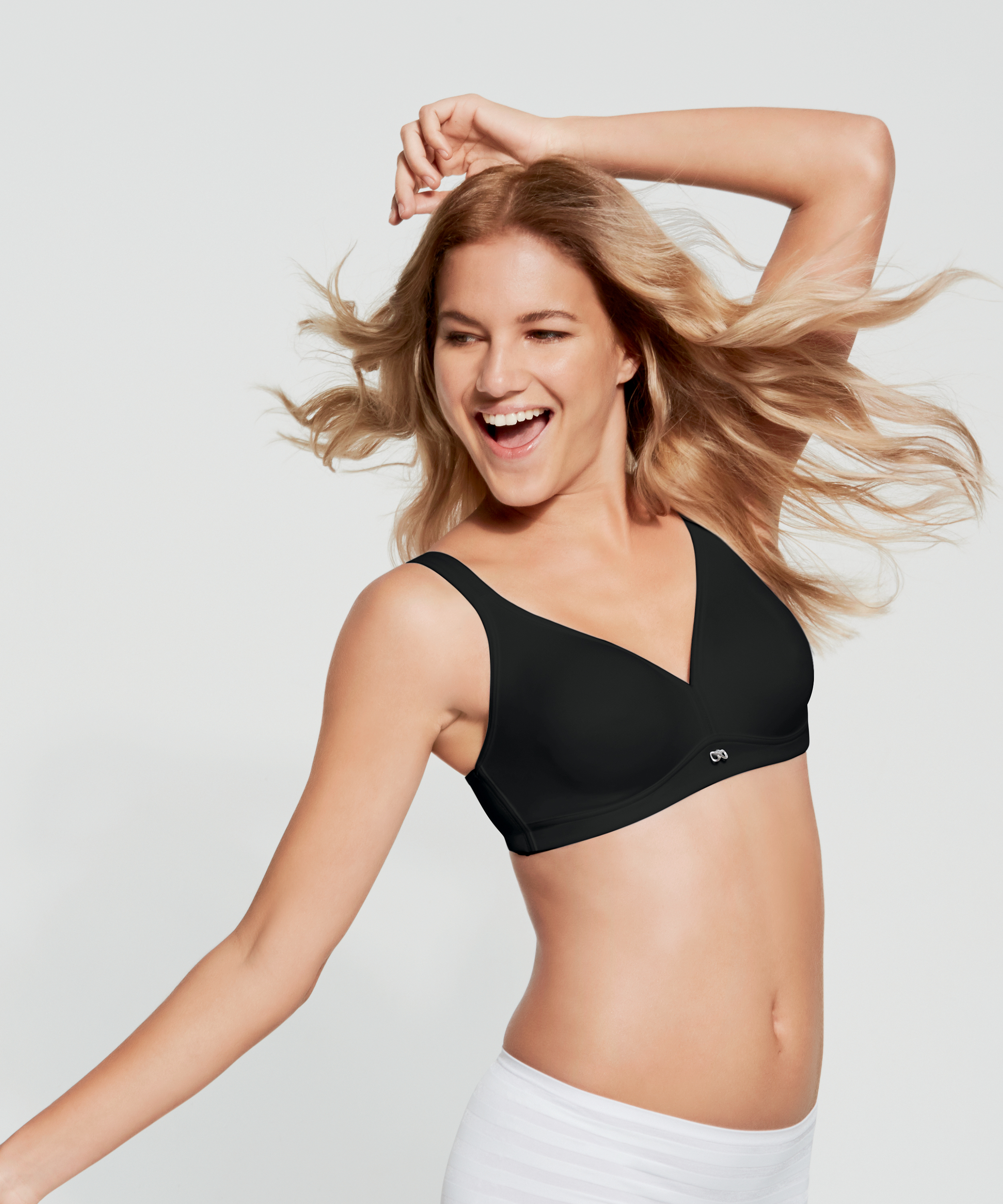 Click here to learn more or get this bra!
And if you have any other questions, head over to our Questions & Answers section, call or text our Customer Service team, or head to any Jockey retail store.